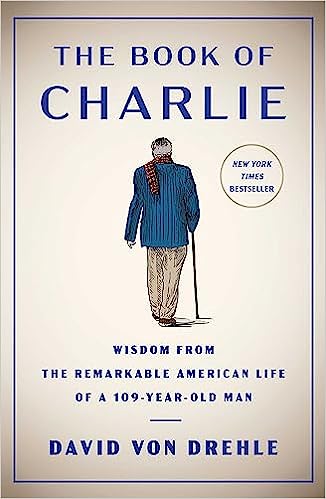 By David Von Drehle – Simon and Schuster, 2023
Writer David Von Drehle was new to the suburbs of Kansas City when he first spotted his neighbor in the driveway, wearing swim trunks and washing his girlfriend's car. Charles "Charlie" White III was 102 years old at that time.
What sets this biography apart is how Von Drehle takes us through America's history along with Charlie's—as he grows older, so does America. We meet Charlie at age 8, when his father dies, then learn of his many friendships and how his "always do the right thing" philosophy of life impacted everything he did. He listened to jazz on the radio and taught himself to play the saxophone, which became his way of earning money to pay his way through medical school. We go with Charlie through Prohibition and the Depression and the construction of the state's largest hospital, where he became the city's first anesthesiologist, practicing through his 80s. We learn of his relationships and how his philosophy of life impacted everything he did. His mother encouraged him to do the right thing, and so Charlie did for a remarkable 109 years. Through grit and determination, and always with a bit of humor, Charlie White took us through the decades of the 1900s. It's a heck of a ride.