At age 57, Victoria Marie sports a full head of long, lustrous gray hair—in the city of Los Angeles, as an actress, in an industry where youth is life. "This is who I am," she says. "Take it or leave it."
Across the country, in North Carolina, Martha Truslow Smith embraces her premature gray—at age 26. "I never want to pick up a bottle of dye again," says the graphic designer.
With its ubiquitous hair dyes, creams, injectables and surgeries, the antiaging industry is a multibillion-dollar field. Yet more and more women are declaring they're done with it. They're done with being told aging is shameful. They're done with spending money, time and effort to hide signs of aging—particularly gray hair. And some of them insist this anti-antiaging trend is here to stay, despite a bevy of naysayers.
The Visible Rebellion
Truslow Smith found her first gray hair at age 14. By the time she was in college, she was dyeing her hair and feeling embarrassed by her gray roots.
The cycle of dye-and-shame was "a slow, quiet monster that developed in my life that I didn't allow myself to really acknowledge," she says.
At age 24, she decided to face it. She was in a relationship and realized she wasn't truly being herself. She was hiding a ball of stress from a man she wanted to marry. So in the summer of 2016, Truslow Smith stopped dyeing her hair—and started an Instagram account called Grombre to chart her growing-out process and to build a supportive community. She invited people who celebrated silver to message her and be featured on the account.
In July 2018, the account had about 7,000 followers. Then Refinery29, a women-focused online outlet, wrote an article about it, followed by BBC News and other media organizations (unsolicited). Now, Grombre has about 46,000 followers and almost 1,000 posts featuring women of all ages. And Truslow Smith (now married to the aforementioned gent, who "loves" her hair) gets so many emails from women wanting to tell their stories that she can't possibly feature them all.
Women who decide to go gray naturally say they're tired of dyeing. And then there's the double standard: on men, gray hair is considered distinguished.
She's found the massive interest surprising and wonderful. "It's a change I would like to see in the world—to have women feel like, if they don't want to dye their hair, then they shouldn't be obligated to do so."
For her part, Victoria Marie feels no such obligation. In the summer of 2013, when she was in her early 50s, she uploaded a video to YouTube about her gray roots. She was recovering from a series of bad dye jobs and had decided to let her gray hair grow in fully, like she used to have it. She titled the video, "Gray Is the New Blonde!"
Women started emailing her—excited to tell her how much they related to what she was saying. "I thought, 'This is interesting. People care about gray hair? How bizarre.' I had no idea," she says. Many told her they were letting their gray hair grow in too.
Now, in 2018, Marie is preparing to release her first documentary, Gray Is the New Blonde, which profiles women who have decided to go gray. The film's Facebook page has about 13,000 followers.
"Women are saying, 'I'm here, and this is my path, and take it or leave it. I'm not going to shrink to societal pressures anymore and feel like I'm not worth anything unless I do. I'm very worth something, with gray hair and all.'"
Who Goes Gray
Both Truslow Smith and Marie say the most common reason women decide to gray naturally is they're tired of the dye process. "They are just fed up with this every two to three weeks of having to go get their hair done," says Marie. "And it's no longer fun like it was when we were in our 20s and 30s. It's a requirement now."
Many cite the double standard—that gray hair on men is usually considered distinguished. They decide, "What's wrong with my gray hair? It looks good!" she says.
Some women also stop dyeing their hair for health reasons—for example, if they've had cancer and want to avoid the chemicals.
One woman told Truslow Smith, "I lost my son, and he will never have the chance to go gray."
"It's a combination of women kind of being fed up with being bullied [by antiaging marketing messages] and realizing that there is so much more to life—that we only have so much energy; why are we spending it on things that at the end of the day don't totally matter?" Truslow Smith says.
But another common theme among these women is fear. In a culture that values women for their looks and equates beauty with youth, women who are considering going gray are often afraid they'll be rejected—for work, by potential romantic partners, by family members, even by strangers. And many times, those fears are realized.
"A lot of people get a lot of negative comments and feedback and pushback," Marie says. She knows of one woman in her 30s who was in a training class for administrative work. "She's got great features, and she looks so chic, but that male instructor shamed her verbally in front of everyone in the class and said, 'You're not going to get hired if you don't go and dye your hair,' and brought her to tears."
When Marie started growing her gray out, one of her friends pressured her to dye it, to the point that he offered to cover the cost. Later, she realized his protests were actually related to how he viewed his own aging. "Typically that's what it's about," she says. "It's not about the person who's decided to go gray. It's about the person who's saying to them, 'You should go dye your hair.' It's because of their own fears and their own insecurities about the aging process."
Women who do go gray despite any negative pressures tell Marie they have one regret: they wish they'd done it sooner. "Women say over and over again, they did not expect to feel so empowered, so authentic," Marie says. "They feel fierce, they feel strong, they feel powerful. And they're rockin' it." For that reason, she believes, this trend is no fad. "It is a movement, and it's not going away."
Wrinkles: to Fight or Not to Fight
Gray hair is one thing. Wrinkles? That's another matter. If a woman goes gray and doesn't like it, it's easy enough to dye her hair back. Wrinkles are harder to get rid of.
Even women who go naturally gray aren't always so gung-ho about ditching antiwrinkle creams—despite the fact that scientists and dermatologists say most such creams don't work.
Often, it boils down to fear of regret, says Abigail Brooks, author of The Ways Women Age: Using and Refusing Cosmetic Intervention (2017). They're afraid they'll end up looking older than their friends who use antiaging creams and procedures. And they also face some guilt.
Per pervasive marketing messages, "to age well, particularly as a woman, means that you should be fighting aging every step of the way," Brooks says. The idea is, "this product gives you the power to fight back, and therefore you should say yes to that fight."
The antiaging industry itself is ready to embrace aging at least partially—or it wants to sound as if it is.
For her book, Brooks did find women who were refusing antiaging creams and procedures. And she discovered a main commonality: they accepted aging as a natural process that didn't need fixing.
"They actually talked about being able to understand the wrinkles and the sags and the bags and the gray hair as beautiful, just in different ways from how a young, wrinkle-free female face might look," she says. They saw these signs of aging as "reflective of lived experience and actions taken and thoughts had and emotions felt. And they thought that that was a really interesting kind of beauty."
Many women also said they were less focused on attracting male attention. "It's like they've moved beyond that cultural expectation of the reproductive-vessel-slash-sex object, and that allows them this whole new, exciting phase of life," Brooks says. "They feel like, I'm going to feel empowered to focus more on my mind now or more on other aspects of what I always have wanted to do."
On the other hand, when Brooks interviewed women who did use antiaging creams and procedures, she found that they equated beauty with youth. Age-related changes "made them feel like their bodies were outside of their control," Brooks says. Some "talked about needing to look younger to continue to be viable in their workplaces." Others wanted to find a new male partner.
These women told Brooks that unlike men, they had to look younger to be taken seriously. "I think we have to say, but is that really OK?" Brooks says. "Is that where we want to be?"
The Antiaging Market
As the number of older Americans has increased, so has rebellion against antiaging marketing, with people asking why signs of aging must be hidden or "fixed" or "treated."
In the summer of 2017, the beauty magazine, Allure, declared it would stop using the term antiaging altogether. "I hope we can all get to a point where we recognize that beauty is not something just for the young," wrote editor-in-chief Michelle Lee in a letter from the editor—while also clarifying, "no one is suggesting giving up retinol" (probably the best-studied antiaging ingredient).
The antiaging industry itself is on board with this embrace-aging-to-some-extent idea too. Or, at least, it wants to sound like it is.
"We're not anti-aging, we're anti-wrinkles," declares Neutrogena (whose Healthy Skin Anti-Wrinkle cream is marketed to "treat" wrinkles "and other signs of aging").
In a CoverGirl television ad, model Maye Musk muses, "They say at a certain age, you just stop caring. I wonder what age that is" (as she applies a foundation that "reduces the look of wrinkles" and a graphic notes she's "70 years young").
Antiaging marketing has largely evolved from "aging is a problem" to the supposedly more empowering, "you are the solution." Take charge, the ads declare. Fight! Nurture yourself!
In some ways, the revised messaging is a welcome change, says Brooks, who is director of the women's studies program at Providence College in Rhode Island. But in other ways, it continues to reinforce the mindset that looking your best means looking as young as possible.
Nonetheless—and despite the fact that many women are shunning these products—the marketing seems to be working pretty well. Statistics about the size of the antiaging market vary widely, in part because they don't all include the same sectors (such as cosmetics, cosmeceuticals, pharmaceuticals, exercise equipment, surgeries, even perfumes touted to make women smell younger). Estimates range from under $100 billion to more than $300 billion. But the general consensus is, the market is huge, and it's growing.
Some of that growth is due to the fact that the industry has diversified its target audience, points out Toni Calasanti, a sociology professor at Virginia Tech who specializes in gender and aging. "More and more people are getting pulled in and at younger and younger ages," she says. Women in their 20s are now key antiaging targets—as are men. "There are some gender differences, but the similarity across all groups is, we need to not look old."
Aging with Freedom
Women who eschew antiaging products and procedures "talk to me in so many interesting and exciting ways about new room for growth, for freedom, for exploration and even liberation with age," Brooks says. "They feel like now they can move into new avenues where they have more room for self-development or self-expression."
Truslow Smith has a similar take. "I'm getting the sense that women who are embracing their gray hair are entering a new chapter of life that is unexpected, and they're finding a new sort of love and contentment with themselves."
Both Truslow Smith and Marie emphasize that they're not suggesting it's bad for a woman to dye her hair. They just want women to have a viable choice.
"We operate within beauty standards that have been a big bully," Truslow Smith says. At 26, she recognizes that as the years go by, she'll develop a lot more wrinkles, gray strands and other signs of aging. "Am I going to choose to believe that my value is decreasing as I'm getting older? Or am I going to choose to absolutely love myself and my full potential—and walk my path the way that I feel called to walk?" Self-acceptance, Truslow Smith says, "is a revelation that is not expressed within any sort of beauty advertisement—that women are claiming for themselves."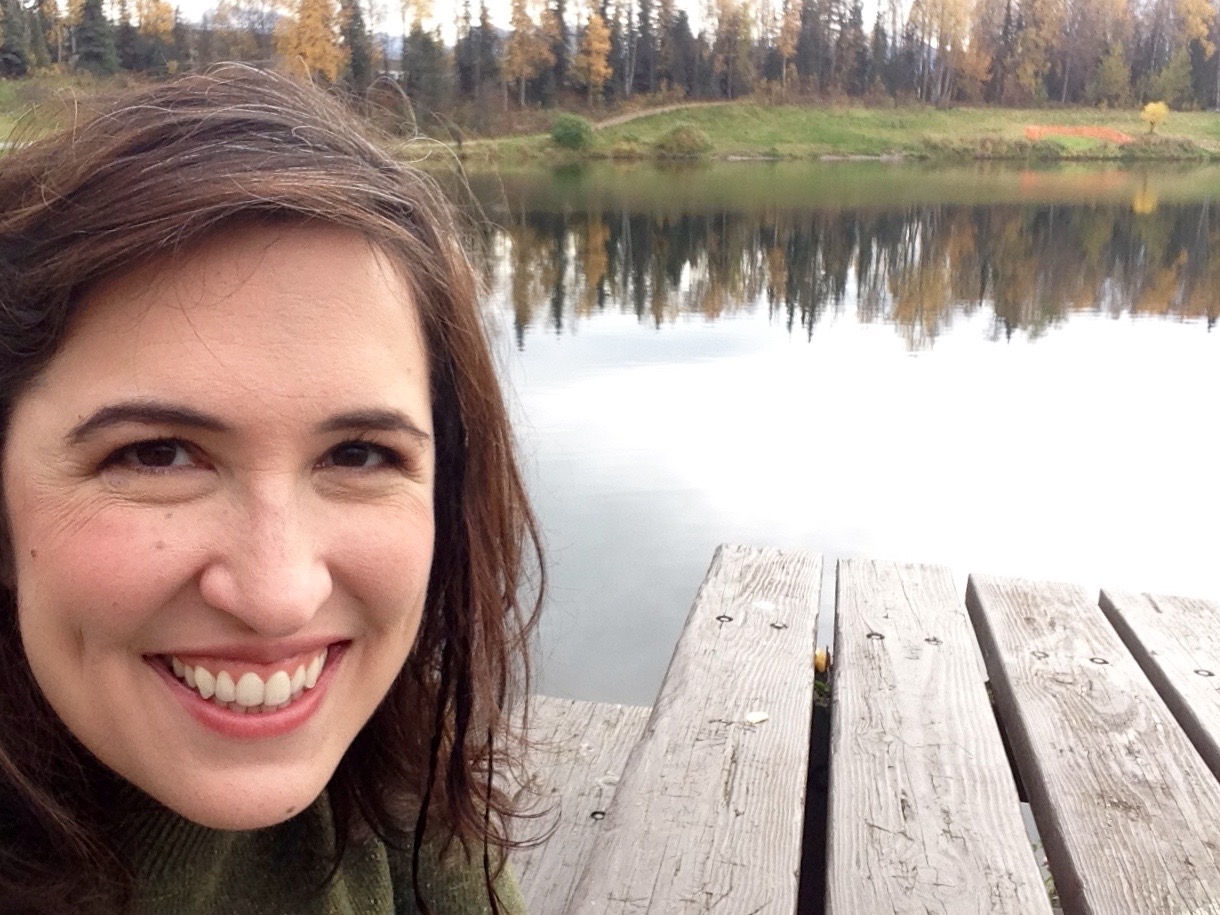 Leigh Ann Hubbard is a professional freelance journalist who specializes in health, aging, the American South and Alaska. Prior to her full-time freelance career, Leigh Ann worked at CNN and served as managing editor for a national health magazine. A proud aunt, Leigh Ann splits her time between Mississippi and Alaska.