When she retired 15 years ago, Tzipporah "Zippy" Sandler was floundering and unsure what was next. Then a tech-savvy friend suggested she start a blog and even offered to build it for her.
"I didn't even know what a blog was, but I said, 'Yeah, why not?'" Sandler said.
Sandler's blog, Champagne Living, focused on affordable travel and lifestyle and soon expanded to social media. Now, at age 68, she's a top-ranked social media influencer, with more than 34,000 followers on her Instagram account ("Zipporahs"), YouTube channel, a weekly show livestreamed via Facebook, and her blog, which attracts more than 315,000 unique visitors monthly.
In search of her next post, she's done everything from riding a luxury train through the Canadian Rockies to hang gliding off a cliff in the Outer Banks in North Carolina.
"It makes me feel young," said Sandler. "I'm checking things off my bucket list."
Sandler is also making money. Companies pay her to serve as a "brand ambassador," to try their products or experiences and post about them on social media feeds. The hang-gliding escapade, for example, was sponsored by a convention and visitors bureau.
Sandler is one of a small but increasingly visible number of older adults who've become social media stars, with thousands, even millions, of followers on Instagram, Twitter, Facebook, TikTok, YouTube and other platforms, often in tandem with podcasts, websites and blogs. These "granfluencers" share photos of fashionable looks, or tips and ideas on fitness, food, travel, crafts and other areas. In a media landscape that often ignores people over 60, older social media stars are boosting the presence of older adults, smashing stereotypes, sometimes making money and, often, engaging younger people as well as their peers.
Among the most well-known are George Takei, 84, whose Facebook profile is followed by more than nine million people, many of them too young to recognize Takei as the actor who played Hikaru Sulu on the TV series Star Trek; fashion icon Iris Apfel, 100, who models flamboyant outfits on Instagram for two million plus followers; Helen Elam, 93, whose "Baddiewinkle" Instagram account has 3.3 million followers; and the "Old Gays"—four gay men, in their 60s and 70s, with more than six million followers on TikTok.
Staying Engaged
For many older adults—famous and not—social media offer a way to stay connected to the wider world.
Social media extended Linda Rodin's 40-year career as a fashion stylist, beauty industry entrepreneur and model. More than 300,000 people follow her Instagram page, "LindaandWinks," which features stylized photos of Rodin, 74, often posed with her poodle, Winky, street scenes from New York and pictures of objects that catch her eye.
"It started out as a photo diary—just a funny record of me and my dog," she said. But the chic Rodin, who sports silver hair and statement eyeglasses and mostly poses in her own clothes, draws followers of all ages. One 30-something called Rodin "my soulmate in fashion." Another commented, "Turned 60 recently and inspired by you and Winks. Keep up the good work."
"I got a lot of comments from younger women who say, 'I want to grow up to look like you,'" she said.
Barbara Weibel, 69, has been able to finance her nomadic lifestyle thanks to social media. Fifteen years ago, she left the corporate world and hit the road, writing about her travels on a blog called Hole in the Donut. Bolstered by years of corporate computer experience, she taught herself to use social media platforms as they emerged. Although she lost some traffic when the pandemic paused her travels, she still has almost 9,000 Facebook followers, 6,000 following her YouTube channel, and thousands of loyal blog subscribers, many who've been with her since the beginning.
Weibel says followers tell her that her blog gave them confidence to travel solo and independently, without packaged tours.
"I get a lot of emails from single women who say, 'You made me believe it's okay to travel solo,' or 'You've given me hope; you did it at age 54,'" she said. "I've encouraged people to travel independently and to not be afraid."
Though about half of adults over 65 use Facebook, older people are relatively rare on Instagram and TikTok.
For Steve Austin, 83, social media brought millions of friends to his apartment, where he lives alone, in Dallas, TX. He couldn't go out during the pandemic, but with 1.7 million people following his TikTok account, "Old Man Steve," he wasn't lonely. Austin creates two to four short videos a day, showing himself dancing or performing silly magic tricks, always wearing his signature hats. Austin started posting on TikTok in 2019 at the urging of his nephew; many of his fans are young people, who send gifts, cards and hats from as far away as Brazil, India and Ireland.
"They tell me they want me to be their grandpa, or I remind them of their grandpa," he said. "I think I come across as a regular guy having a good time. I'm told I seem honest and trustworthy."
It's no surprise that older people attract younger followers on social media, especially on platforms like TikTok or Instagram. Pew Research reports that about 50 percent of adults over 65 use Facebook, but only 11 percent are on Instagram and only 4 percent on TikTok.
While older adults can make money and have fun on social media, maintaining a large following isn't easy. New content must be posted regularly. They must understand Google's ranking system to drive traffic. They must master the platforms they're on but stay nimble. Today's hot social media platform may be tomorrow's has-been. (Remember MySpace?)
Dennis Littley, 68, learned that lesson. A former culinary director and teacher at a Catholic girls' high school, he started a blog to share his recipes for "restaurant-style" dishes with students and staff. Ask Chef Dennis eventually garnered a following of more than a million people on Google+, a social networking platform launched in 2011. Then, with little warning, Google shut down the platform in 2019.
"That hurt," he said. But Littley, who's always been tech-savvy, pivoted and rebuilt. Now he has 800,000 followers on Facebook and 53,000 on Instagram, and his blog attracts nine million visitors annually.
"I've always gone after whatever new social media was out there and learned how to use it properly," he said.
Marketing Boon
Older adults with large followings on social media created a new avenue for brands looking to grow their customer bases, according to Joe Sinkwitz, CEO of Intellifluence, an influencer marketing network.
"Peer influence is usually the most powerful driver when reaching specific demographics," Sinkwitz said. "Getting more older voices is absolutely vital for companies looking to reach that key demographic."
Older adults represent a massive market, Sinkwitz added. Women 50 and older handle 27 percent of all consumer spending, according to the US Government Consumer Expenditure Survey. "They are the healthiest, wealthiest and most active generation in history, have over $15 trillion in purchasing power, and control 95 percent of household purchasing decisions and 80 percent of luxury travel purchases," Forbes reports.
Social media also connects people with similar interests in a way that wasn't possible before, according to digital media expert Dale Blasingame, assistant professor of practice in the School of Journalism and Mass Communication at Texas State University in San Marcos, TX. Digital media "has fundamentally changed the way we consume media," he said. "It's no longer all about 'the hits.'"
Just 30 years ago, a few television networks decided what shows viewers watched and a handful of radio stations determined what songs became the Top 10 hits. Today, consumers have unlimited choices. Through social media, consumers can find content related to even the most obscure interests, and older adults with experience or accumulated wisdom in niche areas can get "discovered."
Timothy Rowett, 79, quietly collected vintage toys, novelties and puzzles for 50 years; then he started creating short videos demonstrating his toys. Now he's a You Tube hit, with more than two million followers.
One woman's videos on YouTube transformed her town into "the Disneyland of quilting."
Similarly, Jenny Doan, 64, leveraged her sewing skills to tap into a worldwide market of quilting enthusiasts. Her family launched the Missouri Star Quilt Company, a small retail operation in Hamilton, MO, in 2009. Business was slow at first, so her son suggested she try creating video tutorials on quilting techniques. She did all the talking and demonstrating; he ran the camera and set up the YouTube account. Not only did Doan become a YouTube star with more than 800,000 subscribers, the business flourished, transforming Hamilton from a sleepy farming community into "the Disneyland of quilting." Quilters come from around the world to shop at Missouri Star Quilt's 13 retail stores, take quilting classes and, they hope, catch a glimpse of Jenny Doan, the quilting maven.
Even in fashion, a notoriously youth-oriented field, older people on social media have a unique niche, according to the New York Times: "They've already seen the trends, chased the goods and graduated into freedom."
Sandler thinks she appeals to older people because she's real and relatable. Followers see a woman with gray hair and a few wrinkles. She's not following the lead of many young social media influencers, who use Instagram's photo filters to make their skin smoother, lashes longer and lips fuller.
"I'm just not going to do that," she said. "Because this is reality. I think my followers are feeling the same way and they want that connection."
Likewise, Rodin's followers seem to find her relatable and inspirational. She's never had cosmetic surgery. She wears funky glasses, not as a gimmick but because "without them, I'm blind as a bat." Instead of chasing after new trends, she poses in outfits assembled from her own closet.
But Rodin says Instagram is mostly something she does for herself—a way to stay creatively engaged.
"I do this for my own pleasure," she said, "It keeps me on my toes. It's a way for me to be artful."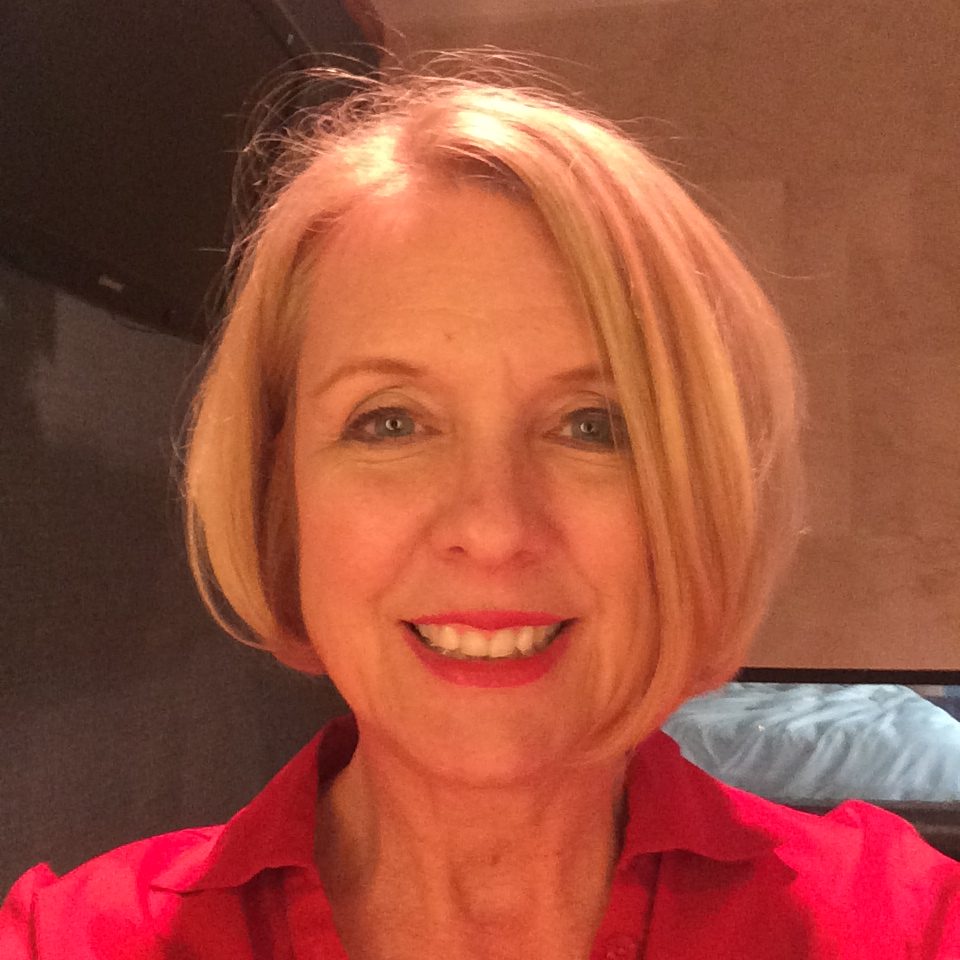 Freelance writer Mary Jacobs lives in Plano, TX, and covers health and fitness, spirituality, and issues relating to older adults. She writes for the Dallas Morning News, the Senior Voice, Religion News Service and other publications; her work has been honored by the Religion Communicators Council, the Associated Church Press and the American Association of Orthopaedic Surgeons. Visit www.MaryJacobs.com for more.