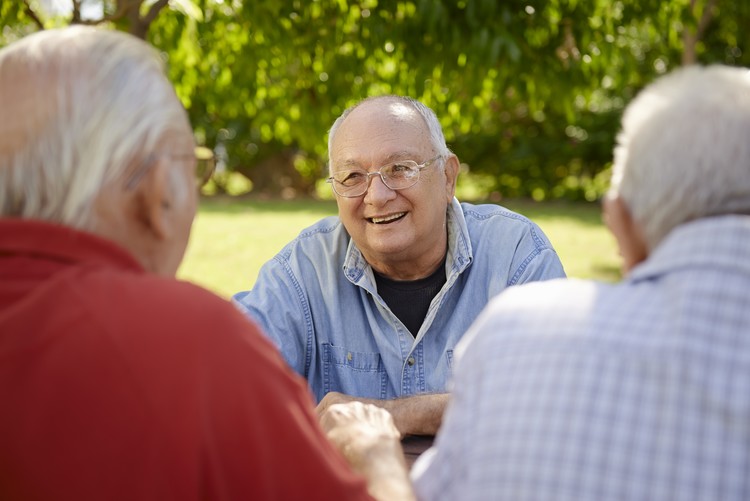 Wednesday mornings are all about spending time with friends over coffee and eggs for Frank Colvin, 66, of Warwick, NY. The former teacher has breakfast with about 25 men from his retirement community, at a trading-post-turned-restaurant called the Country Dream, to talk politics, travel, hobbies and grandkids.
Colvin's crew is a ROMEO Club: Retired Old Men Eating Out. The organization has chapters across the country.
"Our wives had plenty to keep them busy, with their own book clubs and ladies' lunches, so I said, 'Let's do something for the guys,'" recalls Colvin, who started the local chapter. "Having regular breakfast meetings helps us to get out of our comfort zones and learn new things."
If one of my buddies needed me at 3 a.m., I would get out of bed to help them out.
–Frank Colvin
Indeed, their ROMEO Club has sparked the men to organize many activities, from group bike rides to bocce ball teams to senior day trips. The camaraderie has helped Colvin make the most of his retirement.
"It's more than doing things together. My friends are like my extended family. I share their joy whether they win at bingo or have a new grandchild, and their grief when they're sick or have lost a wife," he says. "We're not on second base anymore with lots of time—now we're on third base, heading home. Our bonds get stronger with age. If one of my buddies needed me at 3 a.m., I would get out of bed to help them out."
Why Friendships Matter
Colvin may instinctually know what research has proven: friendships may be the key to delaying serious health issues and even death. Making time to nurture existing friendships and to build new ones isn't just feel-good stuff, because having close relationships is one of the most important predictors of a longer, happier, healthier life. Chronic loneliness and not feeling connected can, in fact, up your odds of everything from heart disease to depression, dementia and sleep problems.
Studies reveal that lacking friends can be more harmful to your health as you grow older than lifestyle behaviors such as smoking, obesity and skipping exercise. In fact, a 2005 Australian study of more than 1,000 people age 70 and older, done over a 10-year period, found that those who had a close circle of friends lived 22 percent longer than those with the fewest pals. Friends had a bigger influence on lifespan than having a close family network, which didn't have any impact on participants' longevity.
Moreover, a 2010 analysis of 148 studies, which had involved more than 300,000 people from around the world, found that those with close relationships were 50 percent more likely to be alive at the end of the study. A lack of friends is as harmful to your health as smoking up to 15 cigarettes a day—and it's twice as harmful as obesity.
Tough times may make women more likely to either tend to children or connect with other women.
Women's friendships are so important to their health and happiness that female friendships may be part of a biological safeguard against stress called the "tend-and-befriend" effect. While decades of research done on men found that stress primarily triggers the fight-or-flight response, a 2000 study from UCLA discovered that tough times may make women more likely to either tend to children or connect with other women, releasing more of the bonding hormone oxytocin for a calming effect.
"Having friends you can talk to about illness, relationships and other issues that you might not feel as comfortable complaining about to family relieves stress and anxiety to have a huge impact on health," says Susan Newman, PhD, social psychologist and author of the newly re-released Little Things Long Remembered (October 2014).
This is not to say that men can't benefit from friendship as much as women.
"Both sexes need platonic intimacy in their lives, but as a culture we haven't given men as much permission to seek a deeper level of intimacy from their friends," says Shasta Nelson, founder of Girlfriendcircles.com, a women's friendship matching website in 55 US cities, and author of Friendships Don't Just Happen! The Guide to Creating a Meaningful Circle of Girlfriends (2013). "Many men rely solely on their wife for intimacy, but it's not healthy to depend on only one person to fulfill your deeper needs for connection—especially because we won't all live to be the same age."
From her research, Nelson finds that men often don't feel their friendships are as weighty as women's, and that they often want their friendships to be deeper.
Colvin can attest to the benefits of venting with his ROMEO Club.
"Our priorities have changed quite a bit. Twenty-five years ago I would have been saying to my buddies, 'Look at that girl with the great legs,' and now we talk about what kind of pills we take," Colvin laughs.
And friends help keep you moving and your mind active—you're much more likely to join a class or go for a walk if you know that you have a friend waiting for you.
"This goes a long way towards alleviating depression and isolation that can lead to all sorts of health issues," Newman says.
Putting in the Work
Building real friendships takes time and effort. There are certain life stages—attending college, parenting young kids or being in the work place—when it's naturally easier to make friends because you're exposed to many, like-minded people in similar situations. However, you may find it's harder to make or maintain friendships later in life because of changing circumstances.
"There are many factors that can impact friendships in your later years, such as retiring at different times, moving closer to grandchildren, more energy spent caring for aging parents and illness that makes you less mobile and therefore less able to meet friends," Nelson says.
Kathy Barone, 62, a retired administrative assistant at a community college in Syracuse, NY, found it tough to keep in touch with her work friends once she retired because she was no longer seeing them in the office every day. Plus, caring for her mother after a stroke took up time that she says she would have otherwise spent socializing.
Such challenges—coupled with the fact that research shows we replace about half of our friends every seven years—can lead to feelings of loneliness. Not to mention that a huge number of older Americans today are single, including one-third of people ages 45 to 63. Divorce is also rising and affects one in four people 50 and older.
Getting online might be one of the least intimidating ways to meet like-minded people.
"Loneliness isn't a feeling to be ashamed of, but simply a way for your body to know that you need more connections, just like hunger means you need food," Nelson says.
For Barone, keeping in touch with her former work pals required more effort than it did when she was seeing them in the office daily, but she realized how important it was to maintain those friendships. So a group of six now commits to meeting at a restaurant every month—and it really helps.
"Even though I have less time to spend with my friends now that I'm caring for my mother, it's not hard to make it a priority to take an hour out for lunch, and reminiscing about old coworkers or hearing about my friends' grandkids or vacations helps me remember to relax and laugh," she says.
Finding New Friends in Later Life
Sometimes your changing life circumstances mean you have less in common with the friends of your youth. Losing old friends due to death, divorce or moving becomes more common as you grow older as well.
Getting online might be one of the least intimidating ways to meet like-minded people. For example, the fastest growing demographic in GirlfriendCircles.com is actually women over 55. Or both sexes can search out a local group that matches their interests at MeetUp.com. Here you'll find everything from knitting circles to book clubs to walking groups.
Shana Greene, 64, of Seattle, WA, says joining a group centered on an interest or passion can be life-enriching and bring you meaningful friendships.
"As you get older, it's really important to expand your interests in order to keep growing, so I suggest volunteering or organizing a writing or travel group. Whatever you feel strongly about, getting involved in a related activity will help you meet a group of like-minded people. For me, I've always been interested in the environment, and that's how I came to find my friend Helen, who enriched my life more than any other."
Greene met Helen Venada when they both lived on San Juan Island, off the coast of Washington. Venada had set up a magazine exchange program in their local post office so people could swap titles instead of tossing them, and Greene got involved with the program.
"I walked up to her and said it was a great idea, and we went to lunch that very day," Greene recalls.
Both activists by nature, they bonded over their desire to make a difference in their community. They started ecology classes for kids and recycling programs, and helped remove 400 tons of toxic waste from the islands.
When Greene got divorced and moved to Seattle, the pair kept in touch between visits with Friday night phone dates. When Venada became terminally ill, it was Greene who was there by her side, helping her children bring her home from the hospital, watching silly sitcoms together and sharing stories from their collective memories.
"I was there when she passed, and her family cremated her with all these letters I had written to her when she was sick about what a remarkable person she was," Greene says. "I'll never replace her friendship, but her passing makes me appreciate more than ever all of the friendships that have enriched my life, and the new ones yet to come."
Keeping in Touch
Once you've built a friendship, don't let a lack of mobility or a move prevent you from maintaining those connections. Just as technology can help you make new friends, it can also make it easier to keep in contact with your existing friends.
When Frank Colvin moved to his retirement community in New York, he left friends behind in Paterson, NJ. Distance made it tougher for impromptu get-togethers with his old buddies, but technology has helped them all keep in touch.
"We constantly touch base with each other through emails and Facebook," he says. "I got rid of my flip phone this July when my wife got me an iPhone, and I love using Facetime. I can call people from Mars on this thing."
Still, don't let the convenience of social media outlets such as Facebook be a replacement for face-to-face interaction. The Internet doesn't allow for the depth of shared experiences, such as laughing together, that real-life interactions do, or the power of touch to communicate a deeper bond. In fact, a 2013 State-of-Friendship-in-America report from Lifeboat.com found that there is no correlation between people's Facebook usage and their overall friendship satisfaction or number of close friends.
"Relying only on Facebook to maintain a friendship is not as rewarding as also supplementing it with real-life face time," says social psychologist Newman. "It's hard to get the same feeling of caring from a computer screen because you're missing the spontaneous laughs, warm hugs and knowing nods."
Colvin, for example, makes an effort to meet up with his old neighborhood pals in New Jersey a few times a year in addition to regularly connecting on Facebook. He says visiting is so enjoyable in part because it leads to reminiscing about shared memories.
"Some of us have known each other for 60 years, so it's nice to get together and talk about old times," he says. "You only come this way once, so try to make and keep as many friends as you can while you're here."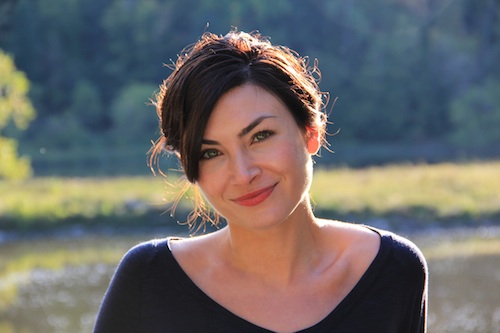 Holly C. Corbett is a free-lance writer and editor whose work has appeared in national outlets such as USA Today, Woman's Day, Prevention.com, TravelChannel.com, and more. She is also the author of three books, including The Lost Girls (HarperCollins 2011), a memoir she coauthored with two friends about their yearlong, round-the-world adventure. She lives in Hoboken, New Jersey, with her husband, son and daughter.