I live in a CCRC, a continuing care retirement community. That means I've been promised a roof over my head and health care of one kind or another for the rest of my life. More than 1,000 residents live here, average age somewhere in the 80s. We're housed in 10 tall apartment buildings on a campus where spring seems determined to arrive despite the pandemic that preoccupies us all.
The people who manage my community are committed to keeping us safe from the coronavirus, which disproportionately kills older people. So they've taken measures.
As a result, my world has been shrinking. First came the announcement that no one except residents and staff would be allowed onto the campus except a few others—like the mail carrier and food deliverers—who were deemed absolutely necessary. Then gatherings of more than 25 residents were banned, and soon after that, all activities were suspended. But we could still have dinner with friends every night in one of the community's three restaurants.
Until the restaurants closed—our meals are now left outside our apartment doors. Bus trips to supermarkets have also been suspended. We're still bused to doctor's offices, but most local doctors now seem to be practicing telemedicine.
We've been advised to keep others at a social distance: no closer than six feet away. I swear, when all this is finally over, I'm going to hug the first 10 people I see.
We've also been advised to stay in our own apartments. I think management would like us to hole up there for the duration, whether it's three or four weeks or 18 months. I know they're doing their utmost to keep us safe, but it feels stifling.
I remember when—was it just a week ago?—I could hop into my car anytime and do my shopping at the supermarket. I hated to admit it, because grocery shopping seems as if it should be boring, but I enjoyed that. And dinner every night? My friends and I complained at times about the food, but now what I remember is how good it felt to have someone to complain to.
It was so easy to go to the bank or have my hair cut. I didn't spend time in the community's fitness center or swim in the pool, but I liked knowing I could if I wanted to. All that is gone for now, here just as it is all over the country.
But when I start feeling down, I think about the fact that I do have a roof over my head. I have heat, electricity and running water. I have ways to touch base with family and friends by phone or internet. I have enough to eat, and people on the staff are doing their best in an unprecedented situation to keep all of us safe. And if I feel as if I'm going stir-crazy, I can always go for a walk on the campus with a friend, keeping a safe distance between us.
Besides all that, I find I like knowing that, if I phone someone these days, they're almost certain to be home. And I like the fact that my kids are calling me, just to talk, much more often than they did before. (My daughter reminds me that there could be worse things than sheltering in place alone. For instance, there's sheltering in place alone with two feuding teenagers.)
The pandemic may have put us on a "war" footing, but nobody's shooting at us. I think of refugee camps around the world, and I know I am incredibly lucky.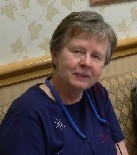 Flora Davis has written scores of magazine articles and is the author of five nonfiction books, including the award-winning Moving the Mountain: The Women's Movement in America Since 1960 (1991, 1999). She currently lives in a retirement community and continues to work as a writer.