When I turned 85 recently, I was relieved. I'd had a silly, personal superstition: my Dad died at 84, and I thought I might do that too.
Eighty-five arrived not only with a faint frisson of relief but with loving phone calls from family and a flurry of emails, wishing me a happy birthday. The emails came from:
Two friends

Virgin Atlantic

Allstate Insurance

AARP

My dermatologist

My audiologist

My cardiologist

My otolaryngologist

Medicalert
Do you suppose the list says something about my age? But I'm still standing.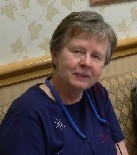 Flora Davis has written scores of magazine articles and is the author of five nonfiction books, including the award-winning Moving the Mountain: The Women's Movement in America Since 1960 (1991, 1999). She currently lives in a retirement community and continues to work as a writer.